Jordyn Fishman is a student at the highly regarded Penny Stamps School of Art & Design at the University of Michigan. She is also probably one of the youngest persons to be accepted into ArtPrize IX in 2017 for her 22-foot mural: "Income, Inequality, Imagine", which was accepted by the Grand Rapids Museum of Art venue. ArtPrize is one of the largest art competition in the world and over 400,000 people flock to the city to see it every year. The venue is the entire city which includes not only museums, but also, the river, restaurants, sidewalks, lawns, parks, parking lots and even the roofs of buildings. Each participating venue chooses artist(s) they wish to highlight.
Jordan works through themes of social inequality and uses her art as activism. She works to the root of the problem beginning with phrases, and uses oil paint, acrylic paint, nail polish, glitter, charcoal, pastel, and graphite.
Jordyn's statement:
My work deals with issues of injustice while simultaneously pointing out the strength we have to push back and to come together to fight and to love. We must fight not only for a more just world, but also we must fight for love. To love this world, to love one another, and to love ourselves is the most powerful force we have.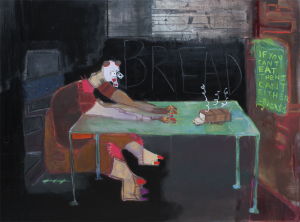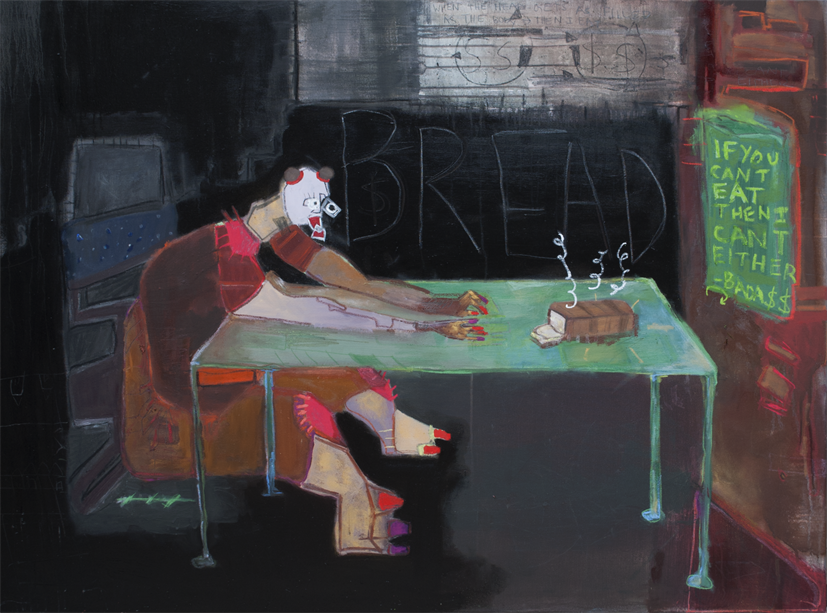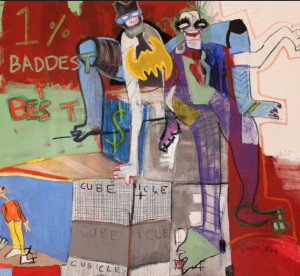 For an article run by the University of Michigan Arts & Culture Department on Jordyn, please click HERE.
Below is the poem accompanying Jordyn's 22-foot wide painting:
"Income Inequality, Imagine"
We all have to step back and look what we've done.
And I say "we" cause it's not one.
This world runs on money and power.
It starts at the home and where that's at.
Whether it's concrete or grass, it's based on class,
separated by color, collar, and dollar.
The lines separating our yards
are the same ones that guard the access to great education in this nation.
Keeping the people from learning keeps them from earning.
If you don't have the proper label,
sometimes you can't get a job that's stable.
It's unequal opportunity that prevents us from finding unity.
We strive and thrive for paper that's not real.
We got sucked into this big game and it's a shame.
Don't blame but let's find a new name.
A name called Love.
What if we could run off this?
I know they've tried and they got dissed.
But I'm going to give my best shot cause this is all we got.
Unclench that fist, there is no order and no borders.
Join us and maybe we can find more unity from community to community.