When:
March 9, 2018 – April 8, 2018
all-day
2018-03-09T00:00:00-05:00
2018-04-09T00:00:00-04:00
Where:
Wassenberg Art Center
214 S. Washington St. Van Wert Ohio 45891
Contact:
Hope Wallace
(419) 238-6837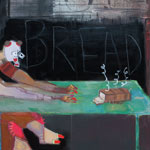 Jordyn Fishman is a student at the highly regarded Penny Stamps School of Art & Design at the University of Michigan. She is also probably one of the youngest persons to be accepted into ArtPrize IX in 2017 for her 22-foot mural: "Income, Inequality, Imagine", which was accepted by the Grand Rapids Museum of Art venue. ArtPrize is one of the largest art competition in the world and over 400,000 people flock to the city to see it every year. The venue is the entire city which includes not only museums, but also, the river, restaurants, sidewalks, lawns, parks, parking lots and even the roofs of buildings. Each participating venue chooses artist(s) they wish to highlight.
Jordan works through themes of social inequality and uses her art as activism. She works to the root of the problem beginning with phrases, and uses oil paint, acrylic paint, nail polish, glitter, charcoal, pastel, and graphite.
Jordyn's statement:
My work deals with issues of injustice while simultaneously pointing out the strength we have to push back and to come together to fight and to love. We must fight not only for a more just world, but also we must fight for love. To love this world, to love one another, and to love ourselves is the most powerful force we have.